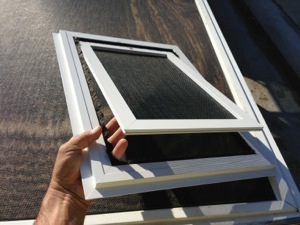 Sliding Screen Door Pet Doors
Pet screen doors professionally installed by Econo Screens onsite in the following areas:  Thousand Oaks Newbury Park Agoura Hills Westlake Village Oak Park Moorpark Camarillo Simi Valley Woodranch Santa Rosa Pleasant Valley Somis Lake Sherwood. Call for a FREE quote.  805 304-6778
Screen Pet Doors
Pet doors for sliding screen doors
'The Best by Design'
High performance pet doors.  Pet Screen Door is specifically desinged for sliding screen patio doors. It features internal high strength magnets for positive close, creating a bug proof seal everytime. This pet screen door features a limited lifetime warranty and is maintainable by the customer forever. Four sizes allow you to customize to your pet…from cats to larger dog breeds.
Made with rugged aluminum framing, tough scratch resistant pet screen and can be maintained indefinitely.
Contact Econo Screens Mobile Screen Repair today
for a  quote!!
805-304-6778
Econo Screens has a variety of pet doors for sliding screen doors, swinging screen doors as well as wood door too.  We have a pet door for almost any situation and for just about any pet. If you already have a screen door and would like to add a pet door, we can do that!  Need a screen door with pet access, we have it.
Pet Door Size Chart With Dog Examples. Please mention to the Sales person what type of pet door you might be needing. Samples are always shown when requesting a free estimate.  805 304-6778
Colors Available are:
White Pet door
Bronze Pet Door
Check you pet door size for the dog or cat you own: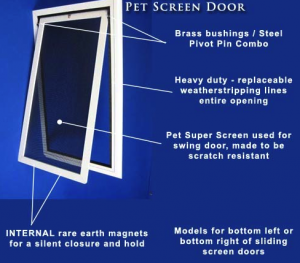 Dog Screen Door                                Cat Screen Door
Swinging Screen Door with Pet Door